An overview of Wattwatchers devices
For most of our trade customers, the Wattwatchers journey starts with our smart energy management devices, the Auditor series. These are proven 'energy IoT' solutions, with 50,000-plus units in the field – mainly in our home market of Australia, but now also deployed commercially in over 20 other countries.
Auditors are ultra-compact and easy to install, with an all-in-one design that eliminates 'hubs' and multi-device solutions by combining metrology, logging, power supply and communications in the one device.

The Auditor range began its commercial life in 2014 as a three-channel monitoring-only smart energy device, using WiFi communications. Auditors have been evolving ever since, and now predominantly use 4G/3G cellular communications, with options to: add switching for remote load control (including solar export limiting); and, Modbus to enable integrations with other hardwares such as revenue meters, inverters, PLCs, digital weather stations and more.
The Auditor 6M+One is used for billing on Solar PPAs and embedded networks. It also is used to support creating LGCs for solar systems generating over 750MWh a year.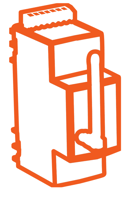 Wattwatchers is a single monitoring platform that is commercially viable across projects in residential, commercial, industrial, and utility use cases, for single and multi-phase sites. Currents up to 3000 amps can be measured for large 3-phase circuits using Rogowski coils (see image) with the Auditor 3RM.
Increasingly, the applications extend beyond being a smarter, data-driven approach to more traditional energy management activities – like sub-metering and solar performance monitoring – to include use of energy data for sophisticated energy efficiency programs, demand response, distributed energy resources (DER) and even non-energy use cases, such as Industry 4.0-style predictive maintenance and asset protection.
Read next: Mobile App - mydata.energy
Learn more about Wattwatchers Hardware and review detailed product information.