For Installers: Summarises features of the Auditor 6W with product brochures and specifications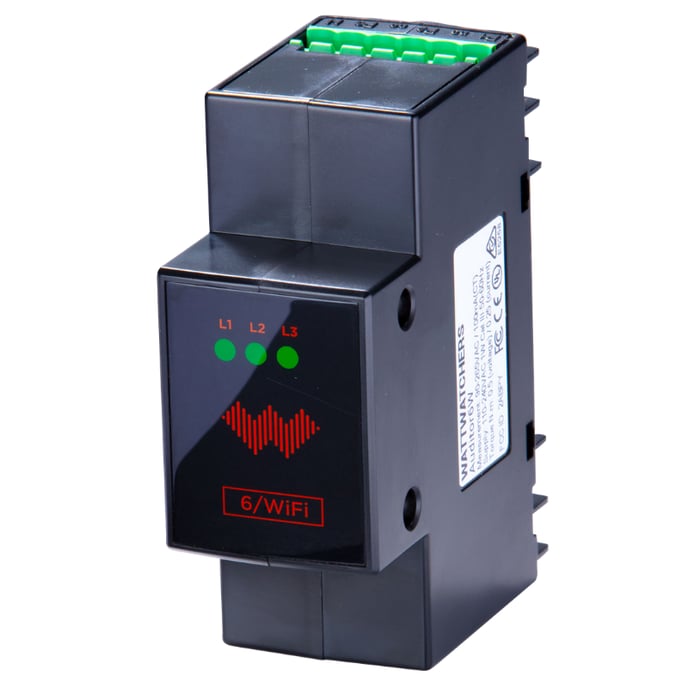 The Wattwatchers Auditor 6W provides real-time, accurate electricity monitoring, with an option for switching control (Auditor 6W+3SW) - for use cases where on-site WiFi is available and is the best communications option. The 6W is part of the Wattwatchers ecosystem, that helps you harness the power of data and future-proof your investment in energy management.
Need to stay flexible? With the 6W you can choose from all Wattwatchers in-house applications, a number of already-integrated third-party partner solutions, or use the Wattwatchers API to pull monitoring data and control functionality into your own platform.
The compact 6W can be quickly installed and commissioned in residential, commercial or industrial use cases. We've simplified in-the-field configuration and eliminated the need for installing communications cabling. This saves time for installers, getting data flowing faster.
Features that make the 6W stand out
🔺Six monitoring channels can be used for single, two and three-phase - 600A max
🔺Much lower ongoing subscription costs v. cellular (WiFi communications is built-in)
🔺Compact form factor - 2 poles slots (35mm) wide
🔺Use with any inverter type and any electricity retailer
🔺No communications cabling
🔺1% accurate with 25 days internal logging capacity to ensure complete data
🔺Over-the-air device management includes firmware upgrades and remote correction of common installation errors (saving extra truck rolls)
Note: a good quality WiFi network with a reliable internet connection is required for great performance.
Downloads