For app users and installers: This article helps you to determine the applications you need, and how to set them up.
Wattwatchers hardware technology comes bundled with great applications that help homes and SME businesses to drive savings, while also providing the tools for installers.
Note: You need Wattwatchers hardware to use these applications. If you do not have hardware and would like to try the applications we can organise a demo.
Onboarding
The app for installers that can be used on mobile devices or desktop users.
The Onboarding tool is used by installers in the field to quickly configure and commission Auditors.
Fleet Managers use Onboarding to remotely verify installation.

Fleet Manager
The Fleet Manager helps you to manage a Wattwatchers fleet of devices, and also customer access.

MyEnergy

The mobile app for consumers including widgets supports electricity users to boost payback by finding the best retailer, cut waste, drive efficiency, optimise time of use for solar and loads, and make well-informed energy investments.
Take control of your energy and never get surprised by electricity bills again.
Users can self-register once they have an Auditor.
If you have a login for the Web Dashboard it works here too!

Web Dashboard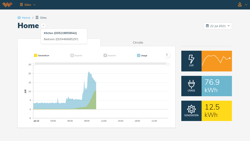 The web dashboard is for desktop users and provides a way to visualise historic data from the Auditors, see circuit-level data, control switches and export CSV files and charts.
Fleet managers control access for Users. If you have access to a MyEnergy login, it also will grant you access to the Web Dashboard at wattwatchers.app