For installers: Summarises features of the Auditor 6M+One (billing bundle) with product brochures and specifications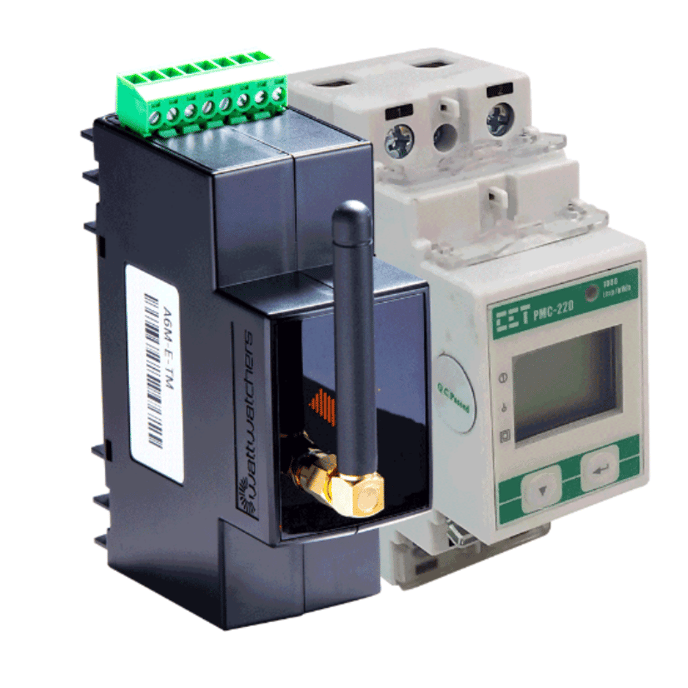 The Wattwatchers Auditor 6M+One is a purpose-designed variant of our most popular solution, the Auditor 6M, which supports use cases where off-market trade in electricity ($/kWh) is required or for LGC creation over 750MWh per annum. The most common examples are behind-the-meter solar power purchase agreements (PPAs), embedded networks and electric vehicle (EV) charging.
The Auditor 6M+One avoids hardware duplication by combining:
Real-time monitoring
Billing certified channel (NMI Pattern-Approved)
Regulatory requirement: In Australia, it is a regulatory requirement that a meter with National Measurement Institute NMI-M6 Pattern-Approval is used for 'trade' which includes the selling of electricity.
The Auditor and CET meter have the same Class 1 (+/- 1%) accuracy as pattern-approved billing meters, but NMI-M6 has a broader set of requirements.
Need to stay flexible? With the 6M+One you can choose from all of the Wattwatchers in-house applications, dozens of already-integrated third-party partner solutions, or use the Wattwatchers API to pull monitoring data and control functionality into your own platform.
The 6M+One sub-range comes in three variants:
Auditor 6M+One Single Phase for up to 63A
Auditor 6M+One 3-phase for up to 100A per phase
Auditor 6M+One 3-phase for greater than 100A to max 600A per phase)
Note: The NMI Pattern-approved data stream is only available from the Wattwatchers API and our integrated billing partners.
Standard Wattwatchers-supplied Current Transformers (CT's) must be fitted to the Auditor for real-time monitoring data or using Wattwatchers applications.
A6M+One can be connected to any of the three CET Meters without any issue. The CET Meter will be detected by A6M+One automatically.
Features that make the 6M+One stand out
🔺 Single Phase: Is 7 meters in one package! Six monitoring channels + one billing channel
🔺 Three-Phase: Is three meters in one package! Two 3-phase monitoring points up to 600A + one three-phase billing certified channel
🔺 4G comms is built-in - we provide multi-carrier (roaming) SIM that selected the strongest available reception ranging from Telstra, Optus, and Vodafone; and also able to roam in over 150 countries for you
🔺 Comes bundled with the Wattwatchers Toolkit and mobile application Mydata.energy
🔺 Compact form factor - 2 DIN slots (35mm) wide for 6M + 2 additional slots for the single-phase CET meter and 6 additional slots for 3-phase CET meters
🔺 Almost no communications cabling (a short link connects the Auditor with PMC meter)
🔺 1% accurate with 25 days internal logging capacity to ensure complete data
🔺 Over-the-air device management includes firmware upgrades and remote correction of common installation errors (saving extra truck rolls)
Further readings
Downloads
📎 Auditor 6M+One Specification