The enterprise-grade Auditor 6M by Wattwatchers is renowned for being one of the most compact, flexible and cost-effective electricity monitoring devices in the market.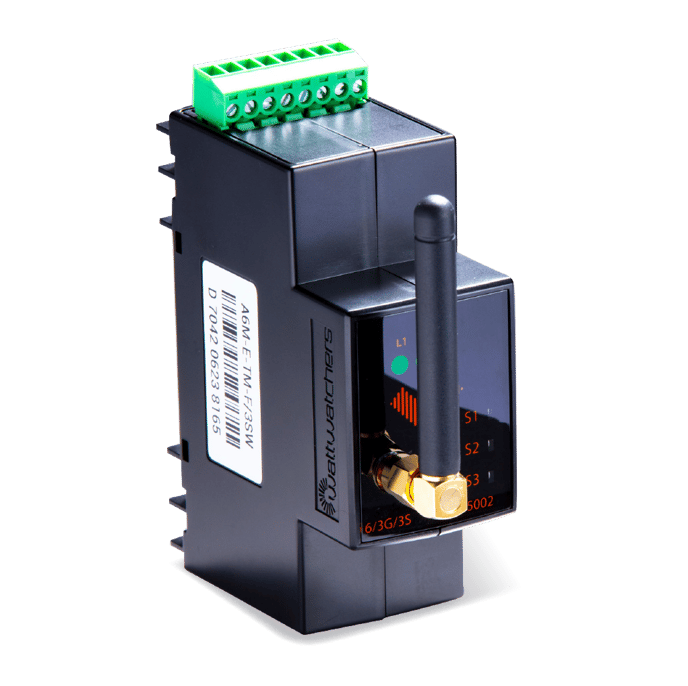 Highlights
Monitors up to 6x power circuits with CTs ranging from 60-600A.
Works with single or multi phases
Built-in 4G modem and sim
Compact 2-unit wide DIN rail form factor (35mm) for installation directly into electrical switchboards
Comes with the Wattwatchers Software Toolkit plus access to third-party software solutions
IEC 62053-21 class 1 energy data accuracy (the same as a utility smart meter for billing)
Suitable for LGC reporting of electricity generation up to 750MWh per annum or approximately 500kWp Solar PV system depending on location, tilt, and orientation of the system (in compliance with the requirements of the Clean Energy Regulator)
(see Auditor 6M+One for LGC reporting solutions for the generation of more than 750 MWh per annum.)
Operates independently of utility meters & compatible with any electricity retailers
Works with any solar inverter for exports monitoring, and many inverters for generation monitoring
Switching control and billing grade options are available
Over-the-air device management includes firmware upgrades and remote correction of common installation faults (saving extra truck rolls)
Overview
With over 35,000 operational devices in Australia and internationally, Auditor 6M by Wattwatchers is a popular enterprise-grade energy monitoring choice. The Auditor 6M provides real-time, Class 1-accurate data with options for switching control (6M+3SW) and billing solutions (6M+One).
Equipped with built-in cellular communications, the Auditor 6M allows users to effortlessly harness the power of data and future-proof investments. It's a turnkey plug-and-play electricity monitoring solution, which is suitable for residential, commercial, and industrial applications. It integrates with dozens of third-party software solutions, including solar performance monitoring, load shifting and control, home energy management, commercial sub-metering and more. Or you can access data via our easy-to-use, thoroughly documented, and secure API to design your own solutions.
How it works
The Auditor 6M is installed in electrical switchboards, where it captures electricity flow data at individual circuits level and securely transmits it to the Cloud. From there users can access the energy data - both real-time and historical - on computers, tablets and smartphones via our REST API, the Wattwatchers Software Toolkit (including the MyEnergy mobile app), or third-party interfaces. Installation always requires a licensed electrician.
Our top tip to get started is to make sure you order the correct equipment:
HOMES: For monitoring-only in homes this will mainly be one device and two sets of standard 60 amp CTs, but we recommend sharing a digital photo of your switchboard contents with your electrician to get any additional advice.
C&I: For commercial and industrial sites, there is much more variability, especially in CT numbers and sizing, and pre-scoping by an electrician is recommended ahead of finalising equipment orders with Wattwatchers.
OPTIONS: If you are seeking to use Auditor 6M variants for the first time - such as the Auditor 6M+3SW for monitoring plus control, or the Auditor 6M+One for behind-the-utility-meter billing (e.g. solar power purchase agreements) - discuss your needs with us via sales@wattwatchers.com.au.
National Measurements Act 1960 mandated utilising NMI-approved technology for trade in Australia that includes 'behind-the-meter' energy billing or power-purchase-agreement (PPA).
It's illegal to use anything (from Wattwatchers inventory) but the Auditor 6M+One for trade or billing purposes.
What's next
Documentation
📎
Auditor 6M Product Overview
📎
Auditor 6M Specification v.1.7 – Oct-2023
📎
Auditor 6 Wiring Diagrams
📎
Wattwatchers API
📎
Safety Instructions For Auditor Hardware